George II Bachelor's Chest of Drawer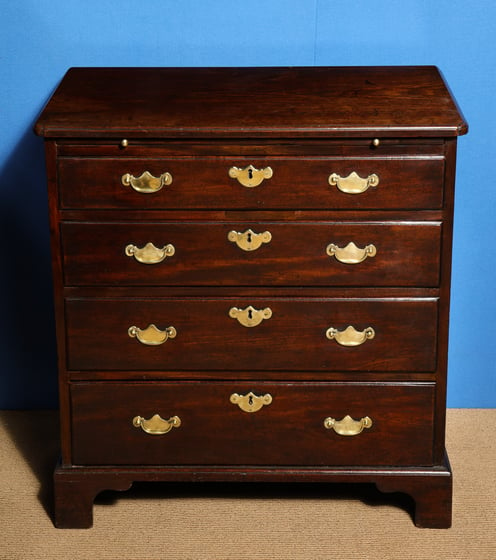 With good proportions and wonderful color and patination, the top moulded edge with re-entrant corners above a writing slide above and four graduated drawers, retaining the original bracket feet. Handles replaced. English c.1750
Height: 31 1/4" Width: 29 3/4" Depth: 18"
Stock No. 6008
Chippendale Period Chest on Chest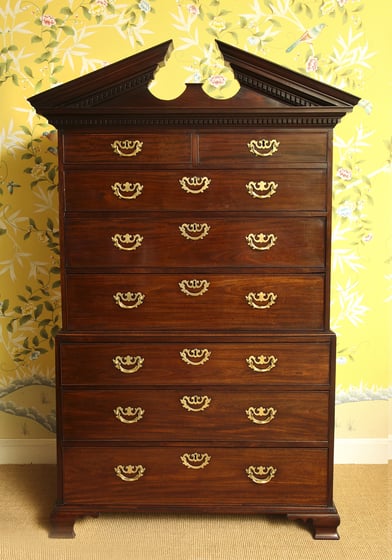 Very Fine Diminutive Chippendale Period Mahogany Chest on Chest, the top section having a broken architectural pediment with two rows of applied carved dentils, above two short and three long graduated cockbeaded drawers, the lower section with three long graduated cockbeaded drawers, on shaped ogee bracket feet, retaining the original locks and handles. English circa 1760
Height: 5'8" (68") Width: 40" Depth: 20"
Stock No. 5025
Louis XV Style Chinoiserie Serpentine Chest of Drawers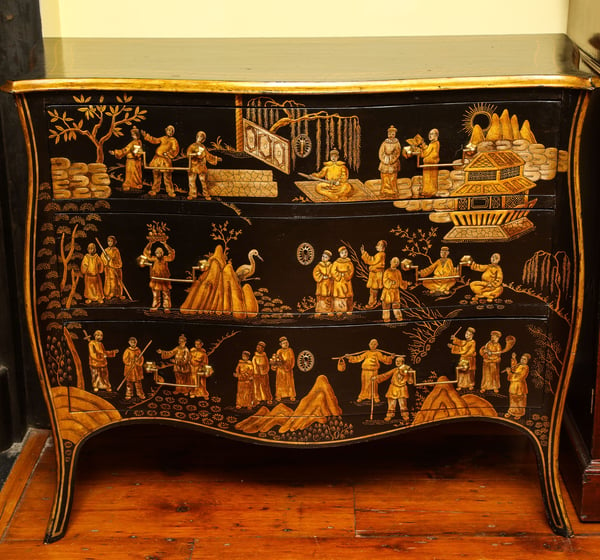 Very Fine Louis XV style chinoiserie serpentine chest of drawers, the shaped top with a conforming band of diaper pattern, the front and sides japanned in silver and gold with overall decorative scheme of musicians and figures at work and play amidst landscapes on a black ground, having three paper lined long drawers each with a pair of gilt brass drop handles and central pierced oval key escutcheon, on splayed tapering feet. Italian circa 1950 Reversvia delle Caldaio, 7A, Florence stamped "PIERI & SON," for Pieri Tullio, Ditta Pieri & Sons.
Height: 35 1/4" Width: 43" Depth: 18 1/4"
Stock No. 6004
George II Mahogany Commode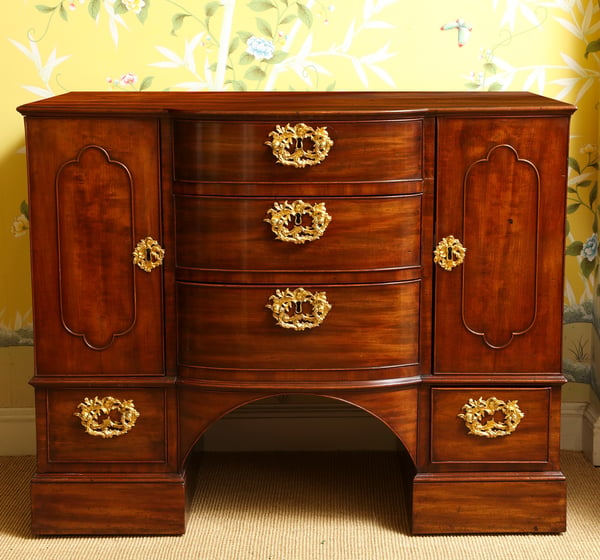 Very Fine George III Ormolu Mounted Mahogany Commode, having a moulded rectangular bowed center above three graduated cockbeaded drawers above the arched center & flanked on either side by a shaped paneled door and short drawer mounted with gilt bronze rococo handles cast with foliage and cabochons, on plinth bases. Attributed to the cabinetmakers Wright & Elwick. English circa 1760.
Provenance: Charles, 2nd Marquess of Rockingham (d.1782), thence by descent, The Earl Fitzwilliam, Wentworth Woodhouse, Yorkshire.
Literature: F. Lewis Hinckley, 'A Directory of Queen Anne, Early Georgian and Chippendale Furniture', 1971, p. 238, illus. 429. Please see July 1948 Burlington Magazine advertisement illustrated herewith to the right.
F. Lewis Hinckley, 'Metropolitan Furniture of the Georgian Years', 1987, p. 123, illus. 192.Sold Christie's London (Spencer House) July 15, 1948, Lt 110, M. Harris & Son, London, Sold Christie's London, November 18, 1982, Lot 174, Philip Colleck of London, Ltd., New York, Private Collection, USA.
This commode is attributed to the London trained "Upholders" Richard Wright and Edward Elwick of Wakefield, Yorkshire (fl. 1745-1771) who were commissioned by the Marquess of Rockingham from the late 1740's

Height: 32 1/2" Width: 40" Depth: 21 3/4".

Stock#: 5044
Rare Queen Anne Japanned Wardrobe Cabinet with original chinoiserie decoration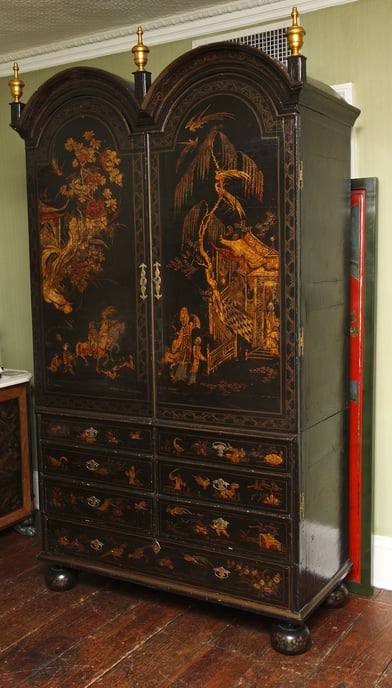 Having two long cabinet doors incorporating lower false drawer fronts and a single long drawer below. The arched cabinet doors enclosing two upper shelves above an arrangement of nine drawers fitted in the Regency period (circa 1820). Wardrobe,English circa 1700

Height: 87" Width: 50" Depth:22"
Stock No. 4017
George II Padouk Wood Cabinet on Stand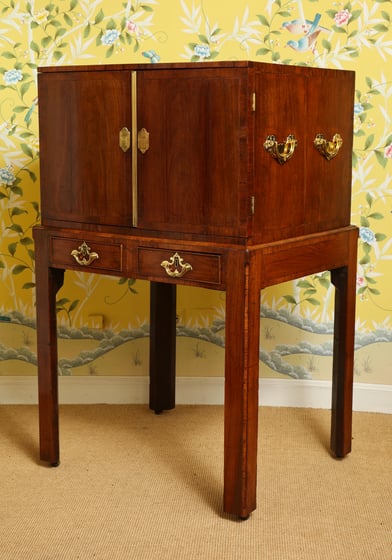 The cabinet finished on all four sides with finely book-matched veneers inlaid with checkering and rosewood cross-banding. The cabinet with a pair of cross-banded doors veneered on both sides enclosing one long over two short fitted drawers, and having twin shaped original brass carrying handles to either side matching the interior handles. The stand having square chamfered legs with two short drawers and original cast handles and backplates to match, on brass and leather castors. This piece features an intricate secret locking/unlocking mechanism with hidden keyhole and spring release. English circa 1740
Height: 50 1/2" Width:31 1/2"" Depth: 25 1/4"
Cabinet Width: 30" Depth: 23 3/4"
Stock No. 5036
Philip Colleck, Ltd.
311 East 58th Street
New York, NY 10022