Queen Anne Red Japanned Bureau Bookcase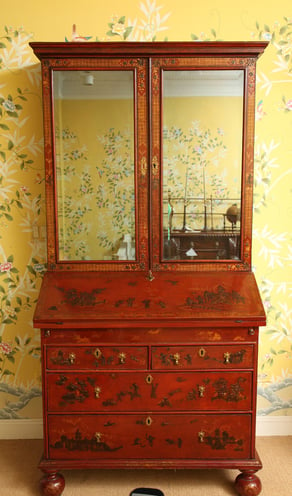 With moulded cornice above two mirror glazed doors enclosing shelves, decorated in gold with birds, foliage and diaper pattern, the projecting bureau with sloping hinged flap enclosing pigeon holes, four drawers and a well, decorated in raised gilt with figures and houses in a landscape, the base with three graduated drawers and sides similarly decorated, on turned bun feet. English circa 1700.

Height: 80 1/2" Width: 39 3/4" Depth: 21 3/4"
Stock No. 4844
George II Plum Pudding Bureau Bookcase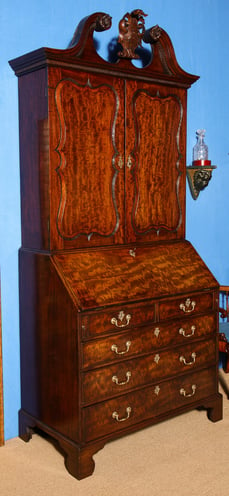 Attributed to Giles Grendey, the upper section with dentil molded swan's neck pediment with bold flowerhead terminals centering the original scrolled pierced and leaf-carved punchwork cartouche, the molded cornice above a pair of shaped fielded panel doors with leaf tip carved edges and a fall front opening to a writing surface and an interior fitted with blind-fret carved valanced drawers forming arches above cubby holes and small and large drawers, with two short and three long graduated cockbeaded drawers below, raised on ogee bracket feet. English circa 1740.

Height 7' 11" Width 44" Depth 23 ½"

#5066
Chippendale Period Mahogany Breakfront Bookcase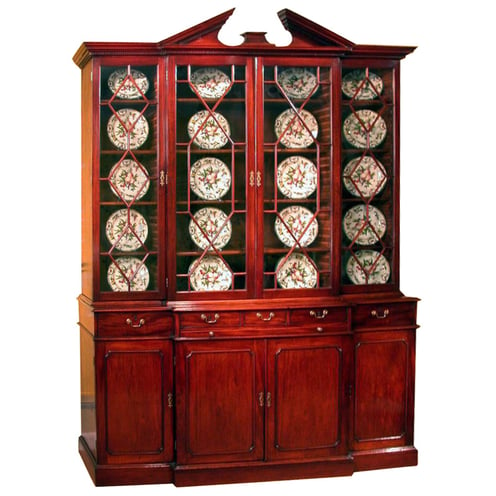 Having a swan's neck architectural broken pediment with central moulded plinth and a dentil carved cornice, above four glazed diamond mullioned doors each enclosing four adjustable shelves; the lower section having a projecting thumb moulded overhang above five short drawers and a central writing slide, above four panelled doors with applied astragal mouldings enclosing adjustable shelves, on a plinth base. English circa 1760
Height: 105" (8'9") Width:80" Depth:22"
#9628
William IV Rosewood Bookcase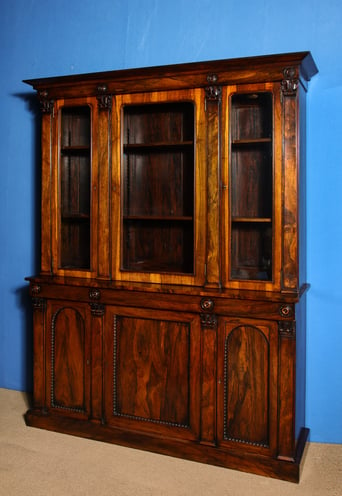 The projecting cornice above a plain frieze with finely carved applied flower-heads. The upper section with three glazed doors opening to a faux rosewood interior and faux rosewood adjustable bookshelves with rosewood fronts. Each door is flanked by tapered pilasters with carved capitals, the lower section with three paneled doors with bead and reel moldings flanked by pilasters enclosing adjustable shelves, on a plinth base. English circa 1830.

Height: 85 3/4" (7 ft. 1 3/4") Width: 69 1/2" (5 ft. 9 1/2") Depth:18 3/8"

#4059
Queen Anne Burl Walnut Bureau Bookcase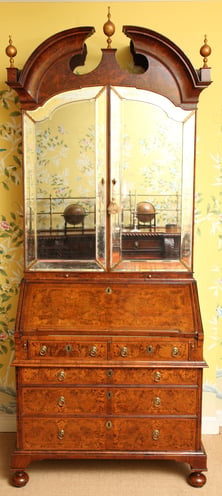 Having a molded broken arched pediment, above a pair of arched beveled mirror doors with beveled borders, above an arrangement of eight drawers; having two pull-out candle slides above a slant front desk section fitted with nine drawers and cubby holes above two short and three long drawers on bracket and bun feet, English circa 1710
Height: 96 1/2" Width: 43" Depth: 25"
Stock No. 9611
Giles Grendey Mahogany Bureau Bookcase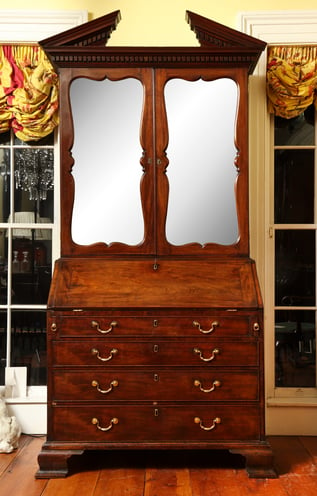 Attributed to Giles Grendey, having a broken pediment with dentils above two cartouche shaped original mirror doors enclosing an adjustable shelf, 9 arcaded cubby holes and four short drawers, above a slant-front fitted desk section having an arrangement of six short drawers and four cubby holes centered by a cartouche carved prospect door enclosing eight small drawers, above four graduated cockbeaded drawers with cast and chased gilt-brass handles and backplates, on the original shaped ogee bracket feet. English circa 1740.

Height: 7 ft. 6 1/4" (90 1/4") Width 47 1/4" Depth 24 1/4"
#9957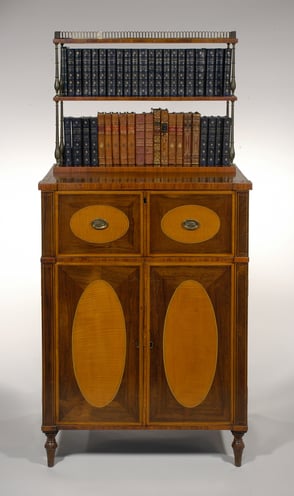 Having a two tier super structure with 3/4 pierced brass gallery supported on turned brass columns. Below is a hinged sliding drawer enclosing an arrangement of five figured satinwood drawers with cubbyholes above and an inset green leather writing surface, the lower pair of oval inlaid and painted cupboard doors enclosing an adjustable shelf, on four turned toupie feet. English circa 1800
Height: 96 1/2" Width: 43" Depth: 25"
#8346
George II Oak Slant Front Desk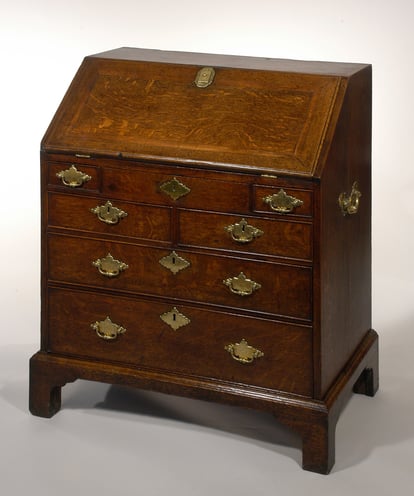 The hinged lid opening to reveal a writing surface and fitted interior with pigeon holes, small drawers and a sliding panel opening to a well, above four short and two long graduated drawers on original bracket feet with original brasses., English c. 1740
Height: 37 1/2" Width: 32 1/2" Depth: 19 1/2"
#9796
Regency Mahogany Writing Table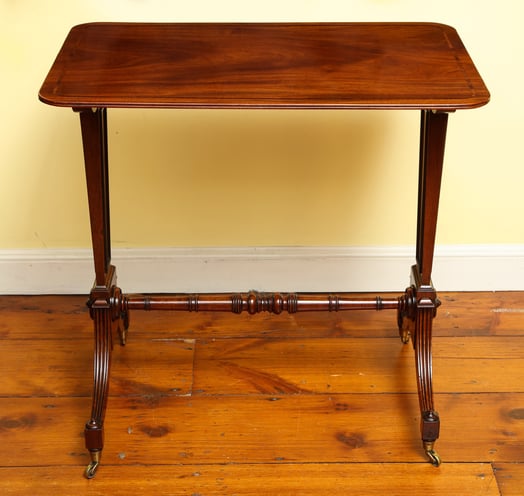 The plain rectangular top with rounded corners on twin tapering trestle supports with turned stretcher and applied roundels on splayed feet ending in toupie feet with brass castors. English circa 1800
Height: 29 3/4" Length: 30" Depth: 19 1/2"
#6002
Philip Colleck, Ltd.
311 East 58th Street
New York, NY 10022
Contact us for more information